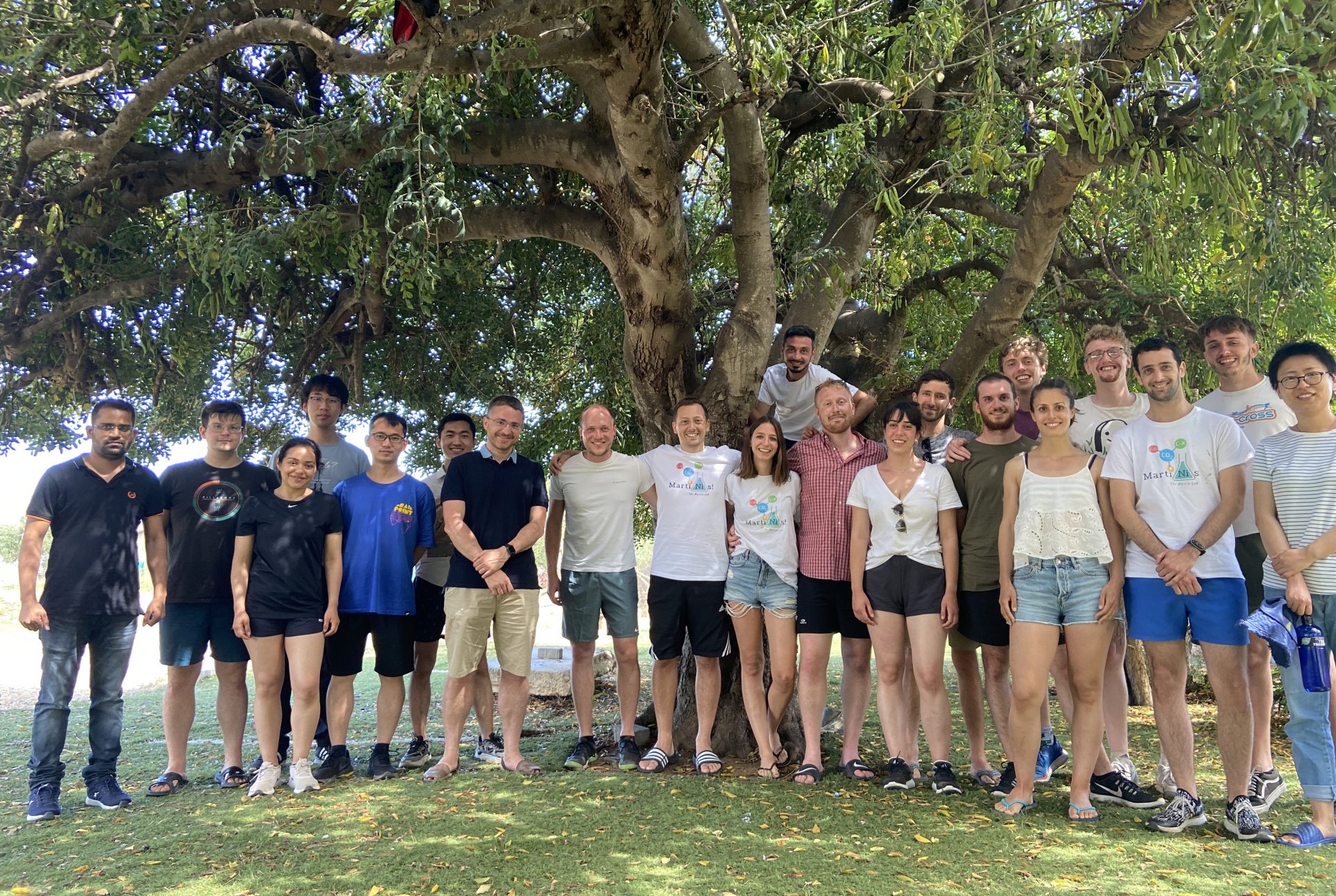 Group Leader:
Ruben Martin, ICREA Professor
Administrative Support:
Ingrid Mateu
Postdoctoral Researchers:
Jacob Davies / Ciro Romano / Victoria Rendon / Christopher Sandford / Riccardo Salvartore / Robert Freud / Mattew Wakelling / Jesus San José / Liang Xu (until Aug.) / José Tiago (until May) /Basudev Sahoo (until Feb.)
PhD students:
Craig Day / Laura Talavera / Carlota Odena / Xinyang Lyu / Dmitry Zimin / Wen-Jun Yue / Julien Lyonnet / Jinhong Chen / Shang Zheng Sun (until Dec.) / Thomas Duhamel (until Nov.) /  Andreu Tortajada (until Nov.) / Marino Börjesson (until Feb.) / Rosie Somerville (until Feb.)
Lab technician:
David Sádaba
Visiting Researchers:
Juzeng An (Jan. – Sep.)
Summary
The research of Prof. Martin focuses on discovering the potential of catalytic functionalization of raw materials for the synthesis of valuable compounds from simple and abundant precursors. They have contributed extensively to the catalytic functionalization of C-O and C-H bonds, as well as to the fixation of CO2 to organic matter. They have described a catalytic technology capable of fixing carbon dioxide in saturated and unsaturated hydrocarbons to prepare fatty acids, key parts in the manufacture of polymers, detergents, cosmetics, and pharmaceuticals.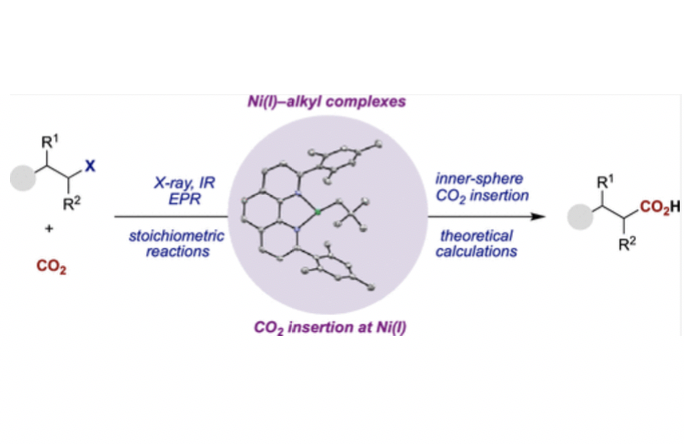 Publications
Dual Catalytic Strategy for Forging sp2–sp3 and sp3–sp3 Architectures via β-Scission of Aliphatic Alcohol Derivatives
Cong,F.; Lyv, X.Y.; Day, C. S.; Martin, R.
J. Am. Chem. Soc. 2020, 142 (49), 20594-20599
Remote sp2 C–H Carboxylation via Catalytic 1,4-Ni Migration with CO2
Börjesson, M.; Janssen-Müller, D.; Sahoo, B.; Duan, Y.; Wang, X.; Martin, R.
J. Am. Chem. Soc. 2020, 142 (38), 16234–16239
Dual Catalytic Platform for Enabling sp3 a C–H Arylation & Alkylation of Benzamides
Rand, A. W.; Yin, H.; Xu, L.; Giacoboni, J.; Martin-Montero, R.; Romano, C.; Montgomery, J.; Martin, R.
ACS Catal. 2020, 10 (8), 4671–4676
MORE PUBLICATIONS
Ni(I)-Alkyl Complexes Bearing Phenanthroline Ligands: Experimental Evidence for CO2 Insertion at Ni(I) Centers
Somerville R.; Odena, C.; Obst, M.; Hazari, N.; Hopmann, K.; Martin, R.
J. Am. Chem. Soc. 2020, 142 (25), 10936–10941
Ni-Catalyzed Carboxylation of C(sp2)–S Bonds with CO2: Evidence for the Multifaceted Role of Zn
Yanagi, T.; Somerville, R. J.; Nogi, K.; Martin, R.; Yorimitsu, H.
ACS Catal. 2020, 10 (3), 2117–2123
Site‐Selective 1,2‐Dicarbofunctionalization of Vinyl Boronates via Dual Catalysis
Sun, S. Z.; Duan, Y.; Mega, R. S.; Somerville, R. J.; Martin, R.
Angew. Chem. Int. Ed. 2020, 59 (11), 4370-4374
Stereoselective Base‐Catalyzed 1,1‐Silaboration of Terminal Alkynes
Gu, Y.; Duan, Y.; Shen, Y.; Martin, R.
Angew. Chem. Int. Ed. 2020, 59 (5), 2061-2065
Tackling Remote sp3 C−H Functionalization via Ni‐Catalyzed "chain‐walking" Reactions
Janssen‐Müller, D.; Sahoo, B.; Sun, S.Z.; Martin, R.
Isr. J. Chem. 2020, 60 (3-4), 195-206
Projects
NOVOFLAT
Escaping from Flatland by "de novo" Catalytic Decarboxylation Techniques
ERC Advanced Grant | Ref: 883756
TRIPyr
Tecnologías Químicas para la Valorización de Residuos Industriales en los Pirineos
Collaborative Projects | Ref: EFA308/19 Web page
CO2PERATE
Cooperation towards a sustainable chemical industry
MSCA ITN | Ref: 859910 Web page
NICK-BOND
Nickel-catalyzed bond-formation reactions with native functional groups
Ministerio | Ref: PGC2018-096839-B-I00
CATINERT
Grup d'Activació Catalítica d'Enllaços Inerts
AGAUR | Ref: SGR 938
CHAOS
C-H Activation in Organic Synthesis
COST-European Cooperation in Science and Technology | Ref: EU Cost Action 15106
Theses Supervised
Daniel Bafaluy
October 2nd, 2020
Universitat Rovira I Virgili
"New Strategies for C(sp3)-H Functionalization"
Andreu Tortajada
November 24th, 2020
Universitat Rovira I Virgili
"Nickel-Catalyzed Reductive Carboxylation and Amidation of Organic Matter"
Thomas Duhamel
November 25th, 2020
Universitat Rovira I Virgili
"Design of New C(sp3)-H Functionalization Through Halogen Catalysis"
Shang-Zheng Sun
December 15th, 2020
Universitat Rovira I Virgili
"Ni-Catalyzed Reductive Coupling Reactions to Forge sp3 Carbon Linkages"
Features
Ruben Martin wins Arthur C. Scholar Award
https://www.iciq.org/ruben-martin-wins-arthur-c-cope-scholar-award/
ERC awards Advanced Grant to Martin's catalytic orchestra
https://www.iciq.org/erc-awards-advanced-grant-to-martins-catalytic-orchestra/